Your Guide to Choosing Dog Clothes
MON JUL 25 2016
Whether you are looking to keep your dog cosy and warm during the cold winter months, or you just want to indulge their inner fashionista, there are seemingly limitless clothing possibilities now available to suit dogs of all shapes and sizes. This guide is designed to help take the guesswork out of choosing clothes for your beloved pooch
Selecting a Style
With jackets, jumpers and other fashionable options to choose from, the best style of clothing for your dog depends on a number of factors. When selecting clothing for your canine companion, consider the following questions to help find the right option:
How active is my dog?


Active dogs may prefer coat style clothing rather than jumpers or shirts with sleeves so that their movement isn't limited. If you're planning on leaving your dog dressed during the day, active dogs will need thinner layers so that they don't overheat, whereas older and less active dogs may need clothing that is thicker and warmer.

Will my dog be wearing the clothes indoors, outdoors or both?


If you are choosing clothing to keep your outdoor dog warm, it is best to select clothing made from a durable waterproof or water resistant material like nylon. To keep indoor dogs warm and cosy, choose clothing made from softer materials like polar fleece, yarn or flannelette
How to choose the right size?
So that you can ensure your dog's new outfit is a perfect fit, grab a measuring tape and take just a few simple measurements. If your dog is very wriggly or excited, you may need a helper and some high value treats to encourage him to stand still while you measure him up.
Most coats, jackets and jumpers will use back length as a measurement, to find this simply measure the distance from the base of the neck, about the level of the collar, just to the base of the tail where the coat would end.
In order to find your dog's chest measurement, take your measuring tape, and gently encircle it around the widest part of your dog's chest. The tape should be snug but not too tight. If you need a neck measurement as well, repeat the same process, this time encircling the tape gently around your dog's neck at the same level where the collar would normally sit.
When Teagan's not busy sharing her knowledge of all things pets as Pet Circle's resident vet, she is the human companion of two intense English staffies and a three-legged cat named Steve.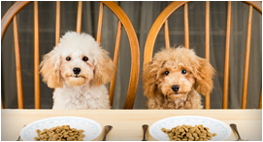 Wet dog foods vs dry dog foods - which is the best? ▶