How To Choose the Best Bed for Your Pet
LAST UPDATED 7 APRIL 2022
This article is written by Pet Circle veterinarian, Dr Belinda Stancombe
Every pet deserves a cosy bed to snooze in at the end of a long day, but how do you know which style will be most comfortable and best suit your pet's unique paw-sonality?
With bolster beds, igloos, hideaway pouches, orthopaedic beds, heated beds, kennels, and even beds for treating the painful symptoms of arthritis, there is definitely a bed for every pet.
Contents:
Other Things to Look for in a Pet Bed
Bolster Beds
Pictured: Mog and Bone Reversible Bed
Unless you plan on sharing your couch and your bed with your furry companion, a comfortable indoor bed is a must. Bolster style beds are usually designed with a comfy cushion surrounded by raised sides, which are perfect for pets that love to curl up and sleep. The design encases your pet in a soft cushy hug, and gives them a bit of a head rest.
Cushion Beds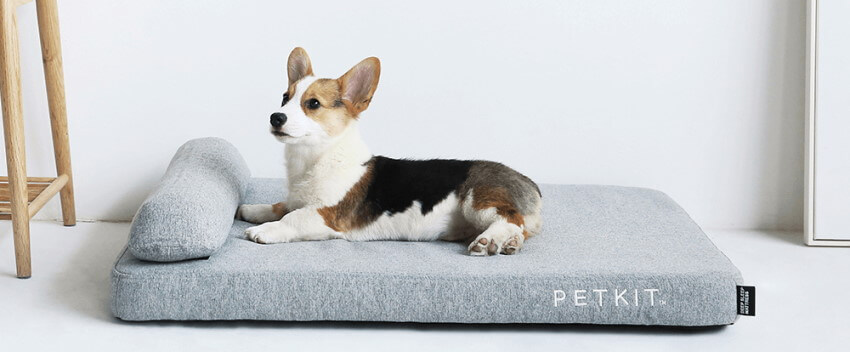 Pictured: Petkit Deep Sleep Mattress Bed
For larger dogs and those that like stretch out to sleep, a cushion style bed, mat or mattress might be a better choice. For older pets and those that suffer from arthritis, cushion beds are great for two reasons - not only do they offer extra padding to help support stiff and painful joints, but they are usually lower to the ground, which means it's easier for your pet to get up and down off them.
Hideaways and Igloo Beds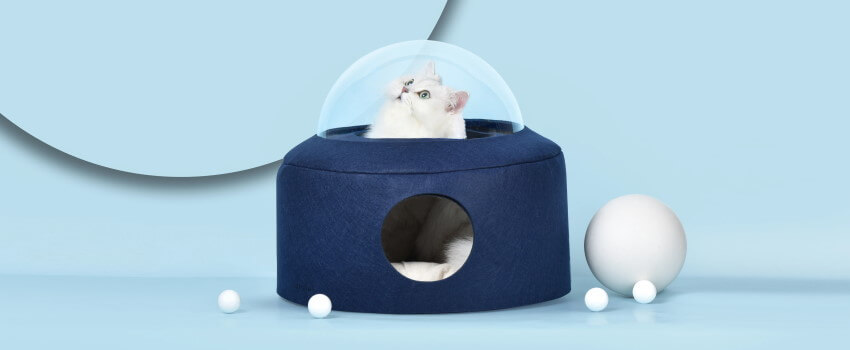 Pictured: Furrytail Space Capsule Bed
If you've got a pint-sized pooch or a kitty that is always looking for cosy nooks and crannies to catch some z's in, an igloo bed might be right up their alley. Cats love hiding away in to sleep, and hideaway caves are perfect for this.
Elevated Beds

Pictured: Kazoo Sleepin' Round Bed
Outdoor dogs need a comfy place to sleep too! Elevated trampoline style beds are a great option for all shapes and sizes. The raised sleeping platform allows air to circulate underneath to keep your pooch cool and well ventilated during summer. Plus, due to the plastic shadecloth-like material, these beds are often referred to as 'anti-flea', as fleas don't tend to lay eggs in their material (they prefer cushions, carpet, or blankets). Due to this material, they are also anti-dust, which is great for dogs with potential dust allergy.
For winter time, you might like to try a cushioned elevated bed, or simply add a soft mat or fluffy cover during the cooler winter months to keep your dog's belly cosy and warm.
Shop All Elevated Beds, Accessories and Replacement Covers
Heated Beds

If you have a pet that feels the cold or suffers from aching joints, a heated bed would be perfect to keep them toasty and warm. Cats especially like to seek out warm places to sleep such as in on laps or in bed with their owners. After all, we all love a nice warm place to curl up on a cold winters day!
Kennels

Pictured: Jatz the staffy looking less than impressed with his kennel situation.
It's important to provide a kennel for any outdoor dog. They offer your outdoor dog a little more protection from the elements, and options are available made of canvas, plastic, or timber. A Cabana House is an excellent lightweight and portable option that's perfect for camping too!
Other Things to Look For In a Pet Bed

How easy is it to clean?
While self-cleaning pet beds are beginning to hit the market, they aren't very good at removing shedded hair and parasites like fleas just yet. Beds with zippable covers and removable inserts are ideal to chuck straight into the washing machine. A spare cover can be handy when the other one is in the wash so that your kitty's bed is always available.
Get the right size
To choose the right size bed for your pet, wait until they are sleeping comfortably and grab a tape measure. Measure out a rectangle around the area that your dog is sleeping, adding an extra 30cm or so to the length and width to ensure that they will have plenty of room to stretch out and move around. If your dog measures between sizes for your chosen bed, it's always better to go to the next size up.
Add Accessories for Extra Comfort

If you're looking to keep your pet cosy during the cold winter months, a soft, fluffy blanket (or plush cover for outdoor beds) is an excellent way to provide extra warmth. Adding a soft toy or pillow to cuddle up to can add an extra dimension of comfort to give your fur baby the best possible night's sleep.
Not only will choosing the right bedding for your pet ensure that they have a comfortable and appealing place to rest all year round, it also means that there will be more room on the couch for the human members of your family! With beds in a huge range of styles, colours and sizes, you're sure to be able to find an option to suit your fur baby's individual sleeping style and paw-sonality.
Further Reading
Premium pet food: Is it worth it?
Your guide to fleas, ticks and worms
Shop All Dog & Cat Products Now
Want to know more? Check out our Discover Page for more tips on keeping your pets happy and healthy.