Pug
A complete breed guide for Pug dogs
Last Updated 24 February 2022
This article is written by Pet Circle veterinarian, Dr Teagan Lever, BVSc (Hons)
'Multum in parvo' or 'a lot in a little' is often used to describe the Pug Dog's exuberantly loving nature. These little guys can be both the life of the party and a (not so softly) snoring lap companion. The Pug's distinctive features and winning personality have made it a longstanding popular breed worldwide.
Find all your Pug's essentials including toys, treats, collars and clothing in our Pug Shop
Contents:
Breed size:
Place of origin:
Other names:
Toy
China
Pug Dog
Breed group:
Energy level:
Weight range:
Toy Group, Companion Dog
High
6.4 to 8.2kg
Life expectancy:
Tendency to bark:
Height range:
13 to 15 years
Moderate
25.4 to 33.0cm at shoulder
Drool factor:
Social needs:
Coat colours:
Low
High
Fawn with black muzzle or mask and ears or black all over
Shedding factor:
Overall grooming needs:
Coat length:
High
Low
Short, fine and smooth
How long do Pugs live for?
On average, Pugs live between 13 - 15 years.
How much do Pugs cost?
Expect to pay between $1500 - 3500 for a Pug puppy. On top of this, it's important to budget for veterinary bills, pet insurance, a good quality diet and regular flea and worming medication. Check out our New Puppy Shopping List for more information!
Do Pugs shed?
Yes! The adorable Pug is considered a heavy shedder. While their coat looks short and smooth, they have a dense double-coat that sheds all year round. Stay on top of shedding with regular bathing and brushing to remove loose hairs. Deshedding brushes such as the Furminator are useful to remove loose hairs before they are shed.
Pug colours include Fawn with black muzzle or mask and ears, or they may be black all over.
Is a Pug a good dog?
Pugs are affectionate and friendly pets and are considered to be one of the safest breeds for young children. They are smart and easily trainable, given plenty of patience and the right rewards!
Due to their small size, Pugs don't need a great deal of exercise, making them suitable for apartment living. They aren't big barkers and will sleep for a large portion of the day. Pugs tend to get along with other dogs and can even be found snuggling up to cats in the same household.
How big do Pugs grow?
Pugs weigh between 6.4 - 8.2 kg, with the males typically weighing more than females. The typical height of a Pug is between 25.4 - 33 cm at the shoulder. Your Pug will have completed the majority of their growth by 10 months of age.
Do Pugs bark much?
Pugs are moderate barkers - they may bark to alert you of something or simply if they are bored or excited. Pugs also make a variety of other noises including howling, snuffling, snorting and snoring!
Pugs with separation anxiety may bark when left alone. As with any breed of dog, when leaving them it's important to ensure your Pug has had sufficient physical and mental exercise to tire them out and prevent excessive barking. For more information, check out How to stop your dog barking.
How do I know which Pug breeder to choose?
Pugs are predisposed to health conditions, most notably Brachycephalic Airway Syndrome. Because of the poor welfare implications of this condition, vets recommend to avoid breeding from Pugs that have shown clinical signs of BAS, or have had any surgical intervention for the condition.
For a full checklist of questions to ask when choosing a breeder, read our vet article How to Find a Good Breeder.
The Pug originated in China and is one of the oldest known companion dog breeds, dating back to since before 400BC. In the 1500s Dutch traders brought home Pugs from China and the breed became the mascot of Holland's House of Orange after a pet pug saved the Prince of Orange's life by barking to alert him to approaching Spanish Troops. William and Mary of Orange brought their Pugs with them to England when they assumed the throne, beginning a craze for the pug in Britain. Later, Queen Victoria became a Pug enthusiast, keeping and breeding many of her own.
Today the Pug remains popular around the world and due to their distinctive appearance is often seen in movies, books and advertising. Through years of selective breeding, certain physical charactistics of the breed, such as their short nose, have become more and more exaggerated which has resulted in increased prevalence and severity of some health concerns, the welfare impacts of which should not be ignored. Take a look at the photos below of two pugs from the early 1900s compared with more recent photos to see the changes.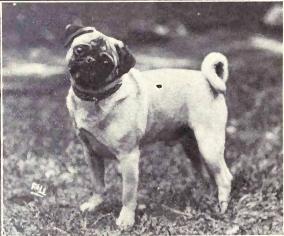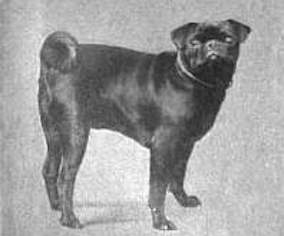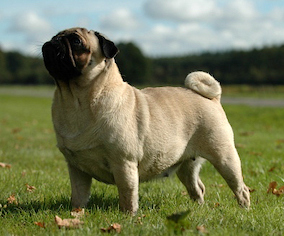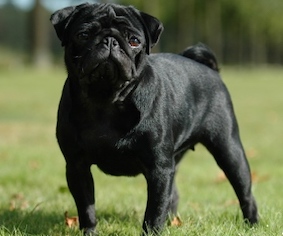 Image credits: Bonfoto