The 9 Best Toys for Indoor Cats [2020]
30 NOVEMBER 2021
This article is written by one of our in-house veterinarians and self-professed 'cat lady', Dr Carla Paszkowski BVSc
The cat is a special and unique animal. On one hand, they are a keen, swift, hunting machine with fine-tuned killer instincts. But on the other hand, they are more than happy to live a cushy indoor life, lounging on the couch and waited on day and night by their 'human slaves'. For such an efficiently evolved hunter, they sure can adapt quickly to the 'couch potato' lifestyle.
Is it cruel to keep a cat indoors?If you've grown up with outdoor cats, you might find the idea of keeping a cat indoors all the time hard to swallow. The truth is, it's completely fine to keep your cat indoors - in fact, most vets recommend it. Cats are 'territory' creatures, which means that they are happy and content so long as they have an established territory for themselves. An indoor territory can keep them just as happy as an outdoor territory.
Not only does an indoor life keep your cat safe from predators, parasites, illnesses, and cat fights, but it protects our native wildlife too.
However, there are a few important things to keep in mind.
Indoor cats are at risk of getting bored.This is easy enough to understand; I'm sure if you were stuck indoors all day without TV, books, or other forms of entertainment, you'd be bored too! And unfortunately boredom in our feline friends can lead to depression (yes - cats get depressed just like us!).
Indoor cats are at risk of obesity and health issues.This is alsoeasy to relate to; we all know that a stagnant, lazy lifestyle will eventually make you fat! And it's no laughing matter. Obesity in cats can very quickly lead to issues like diabetes, and can exacerbate urinary issues, respiratory problems, and skin issues too.
So how do we avoid these issues? The key is plenty of mental stimulation and exercise. However, it's not like you can take your cat out for a daily walk like you can for dogs. Instead, playtime is the most important form of exercise for indoor cats, and toysplay an important part in this.
How many cat toys is enough?
So here we have it; just how many cat toys do you need to stop an indoor cat from getting bored, overweight, and unhealthy?
In my opinion, no matter how crazy a cat lady it makes me sound, I believe you can neverhave too many cat toys. However, as a general guide, I have compiled the following checklist.
Can't choose? Why not let us pick for you with the Curious Box? Each Curious Box contains a selection of two to three engaging toys ( and treats!) Even better, the theme changes every 6 weeks, making it the perfect way to keep your kitty's supply of toys and treats fresh, fun, and varied!
Did you know: Every Cat Has A Unique Personality and Toy Preference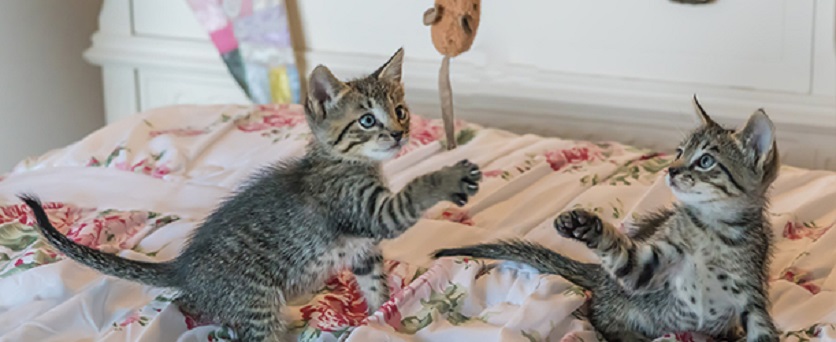 Just like children, every cat will have a preference for a certain type of toy. Some cats enjoy chasing and jumping for small object like balls, some go grazy for noise-making crinkle toys, some really like feathers, some like long snake-like objects... the list goes on. My cat Smudge, for example, has a special affinity for anything with feathers (she holds them in her paws and grooms them like a baby. It's adorable).
It's always important to find out what type of toy your cat likes best. Try providing a bit of a smorgasbord and see what they like to play with. And never assume that your cat simply doens't like to play - you just might not have found the right toy for them yet!
Our Top Toys for Indoor Cats
2. Best for bondingwith your cat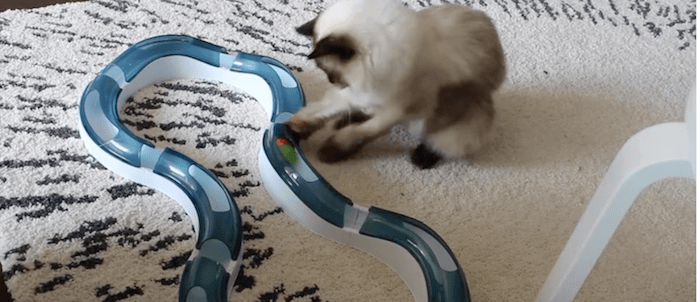 The Catit Senses Roller Circuit
Roller Circuit toys are perfect for indoor cats as they will keep your kitty entertained for hours. The design is relatively simple: usually consisting of a covered track and a ball inside, playful little cat paws can reach through the cover to bat at the ball, but can't remove it.
The Catit Senses Super Circuit is designed with a light-up ball enclosed in an undulating roller circuit. The undulations of the track keep the ball rocking and moving around under the cover, similar to a prey animal running, hiding and appearing. The whole thing just never fails to endlessly entertain cats.
Why we love it:This is perfect for indoor cats. Not only does this toy encourage exercise - as your cat will run around the track batting excitedly at the ball - but it is an excellent toy for home alone cats. The rocking movements of the ball on the hilly track means that just one bat of the ball creates a lot of responsive movements. The best part about this is that it manages to be so responsive and interactive without the use of electronics. Unlike other interactive toys which require electronics to respond to your cat's movements, this toy only uses the simple physics of momentum.
I personally bought one of these for my fussy cat years ago, and she still plays with it every day. She usually gets bored with toys, but this one has truly stood the test of time. Most reviews from cat owners report equally pleasing results with this toy.
Shop Roller Circuit Toys