Download your very own Printable PDF Kitten Guide Here
LAST UPDATED 28 AUGUST 2020
This article is written by Pet Circle veterinarian, Dr Kimberley Chainey, BVSc (Hons)
What greater gift than the love of a cat. - Charles Dickens
Bringing home a new furry friend is an exciting time! It can also be overwhelming, especially if you're a first time kitten parent. How often do I need to worm my kitten? Which food is the best for kittens? When does a kitten need to be microchipped and vaccinated? We'll answer all these questions and more in our comprehensive new kitten guide. Grab a cuppa and settle in with your new family member as we delve into the exciting world of feline ownership!
Need supplies for your new kitten? Check out our Kitten Starter Pack, - a complete value pack put together by our vets containing premium food, parasite prevention, toys, treats, training aids, bedding, and more! Filled with up to $207 worth of products, our discounted price (starting at $129) makes for incredible value! This hamper is also purchasable in a smaller Everyday Box for ongoing maintenance.
While the desire to hear the pitter patter of little kitten feet can be strong, it's important to paws and make sure that now is the right time. While cats are renowned for being independant creatures, they still require plenty of time, attention and care. The time you invest in your kitten when they're young will ultimately pay off in the long run. And by long run, we mean up to 20 years! That's right, some cats have been known to live as long as 18 - 20+ years.
Adopt; don't shop
Every year in Australia thousands of dogs and cats are surrendered to animal shelters and pounds, with many of these animals euthanized because a suitable home cannot be found.
Before heading to a pet store or breeder, consider whether you could instead offer a loving home to a puppy or adult dog in need. Cats, kittens and other pets are available for adoption from the RSPCA, Animal Welfare League, PetRescue and other local rescue organisations.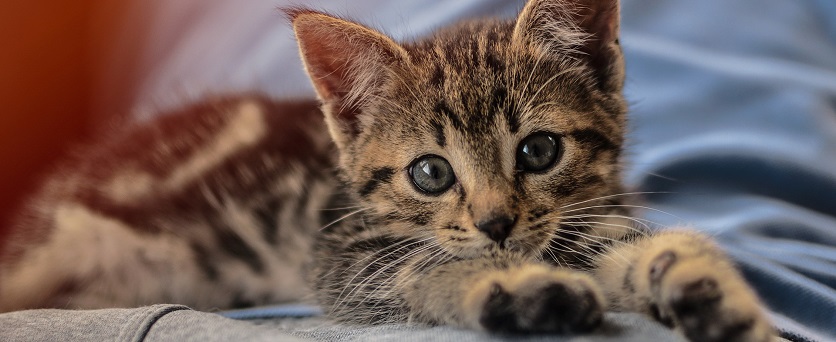 Where to look and what to look for
If you choose to go down the route of obtaining your kitten from a breeder, be selective about who you contact. While less common than puppy farms, kitten farms do operate in Australia and should be avoided at all costs. A kitten farm is a large scale breeding operation where large numbers of cats are kept in inhumane, intensive conditions (eg. caged). Kitten farms are run purely with a focus on profit at the expense of the cats' wellbeing and are widely condemned by veterinarians and animal welfare groups.
What does a 'responsible' breeder look like? - A responsible cat breeder will put the health and wellbeing of their breeding queens first. They ensure that the cats and kittens are fed a good quality diet and kept up to date with all healthcare needs. Good breeders also screen cats for any known inherited defects prior to breeding to avoid passing these on to the kittens. Wherever possible if you are considering purchasing a kitten from a breeder, ask to come and visit and meet them and the parents in person. Not only will meeting the parents and kittens give you a better idea of their temperament, it will also allow you to gauge the kind of environment your kitten is being bred and raised in.
When viewing a kitten, ask the breeder for evidence of their microchipping and vaccination status, and check how often they have been wormed.
The Pet Spot focuses on promoting verified, ethical breeders. It brings transparency to the process of finding a puppy, and is the first Australian marketplace to use strict vetting processes that helps simplify finding a trusted breeder. This provides peace of mind that the pets purchased have been raised in loving, nurturing conditions.
The PETspot is also the first platform to provide cat breeder reviews. This gives the pet community a voice, with each user able to review recent experiences with breeders, shelters, and services.
Want to know more? Read 10 Must Have Products For When You're Away From Home for more inspiration.
Kittens gradually wean off their mother's milk and begin to be able to eat solid food from about 8 weeks of age, so this is considered the minimum acceptable age for them to removed from their mother.
When you bring your new kitten home, try to bring some unwashed bedding from their previous home with them so that they can smell their littermates and old familiar environment during this time of adjustment. Feliway Spray or a Feliway Diffuser can be really helpful here too!
Confine your kitten to a small, safe area of the house to begin with so that they don't get lost or hurt themselves and can easily access their food, water and bed. As your kitten's confidence levels grow you can begin to allow them to explore more of the house and yard.
Introduce your kitten carefully to any existing pets in the house to help get their relationship off on a positive footing. For more information on how to do this, check out Introducing Your New Cat To The Household.
Shop Feliway Spray
Ideal for using on pet bedding, in the car and in pet carriers. Particularly useful for trips to the vet! Always wait 15 minutes before letting your cat near any sprayed areas.
Shop Feliway Diffuser
Creates a comforting environment at home and reduces the signs of stress. The diffuser covers an area up to 70m2.
Shop Feliscratch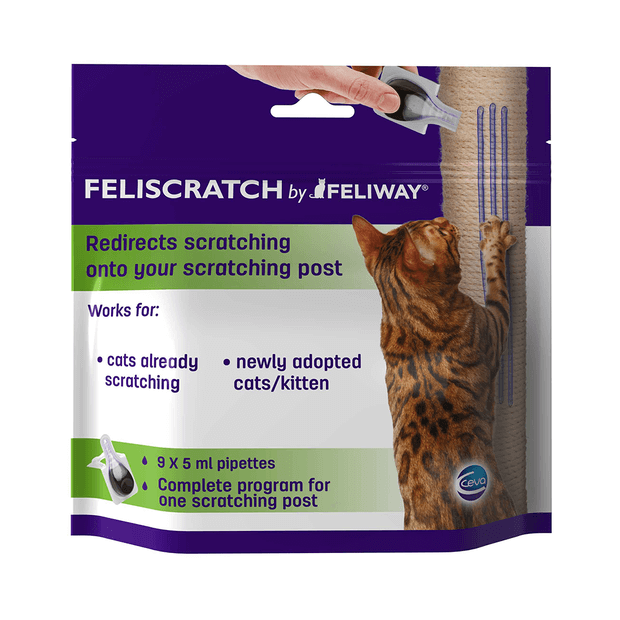 Helps redirect cat scratching to your desired location such as a scratching post, instead of the furniture!
It's important to consider whether your new kitten will live totally indoors, outdoors, or spend a bit of time in both. There are advantages and disadvantages to each and it pays to think carefully about your location, proximity to main roads and neighbours, and the risk of incidents such as dog attacks and snake bites. The RSPCA advocates keeping cats exclusively indoors for many reasons, all of which are highlighted in the comparison table below.
Whichever decision you make, we recommend implemeting the living arrangements early on as cats are much more likely to cope if they've been trained from a young age. Cats that have always had access to the outdoors can quickly become distressed if suddenly kept indoors, which can lead to behavioural issues.
Indoor cats also don't have to live totally indoors - access to an outdoor escape-proof enclosure is highly recommended to provide environmental enrichment and stimulation. Directly supervising your cat while outdoors is another way to help reduce the risks, and if you don't have an escape-proof backyard you can even train your cat to walk on a harness or lead. Avoid walking your cat in places that may cause them stress such as near main roads and where dogs are being exercised.
Benefits of keeping your cat indoors only:
- Protection from injury from car accidents


- Protection from injury from dogs and other cats


- Less likely to develop cat fight-related injuries (abscesses) or catch infectious diseases (Feline Immunodeficiency Virus)


- Reduces the impact of hunting


- Less likely to wander into unfriendly territory or be exposed to cruelty


Disadvantages of keepipng your cat indoors only
- Can lead to distress and behavioural issues if older cats with previous access to the outdoors are suddenly confined indoors


- Generally less active and more likely to develop obesity and obesity-related health problems such as diabetes and urinary tract disease. These health concerns can be minimised with the appropriate diet and a range of cat toys - see more on this later!


Want to know more about keeping a cat indoors only? Read our Guide To Keeping Indoor Cats Entertained.
Shop Interactive Toys for Indoor Cats
It's perfectly normal for kittens to sleep about 15 to 20 hours a day! Remember that your kitten is doing a lot of growing and developing, which means that he or she will need plenty of sleep at night and daytime naps.
In general, night time is the most natural time for cats to be active as dusk and dawn is typically when a cat would do most of their exploring. You might find that your kitten is especially active and playful when you arrive home from work/school, as they have likely spent most of the day relaxing and snoozing. Be sure to engage with them during this time and have an assortment of toys handy.
Do cats hibernate? And does the season affect your cat's sleep cycle? Some new pet owners are curious about whether winter weather and shorter days can affect their cat's requirement for sleep. Rest assured that just like humans, cats have a fairly evergreen sleep requirement which is unaffected by the season. Cats do not hibernate in winter, but they may be a little less active if they are feeling cold.
In order to maximise your kitten's sleep and help him or her settle quickly at night time, try to stick to a bedtime routine, for example: dinner, playtime, and then into their sleeping area.
Do Kittens Need A Cat Bed?
Cats will generally sleep where they like (including your furniture!) and every cat has a different preference. Some cats love having a bed of their own and will use it every day, while other cats prefer to simply sleep on the couch or in bed with their human.
However, all cats are naturally drawn to hidey holes and high surfaces. This means that a cat tree or hideaway bed are usually very well-utilised when provided.
In cooler weather, many cat owners notice their cat seeks out cosy spots and may use a cat bed more frequently. Our top recommendations for a winter cat bed include igloo beds, cat caves, and furry bolster beds.
Our Top Beds for Kittens