How To Cure Your Dog's Car Sickness and Anxiety
Last Updated FRIDAY 8 OCTOBER 2021
This article is written by Pet Circle veterinarian, Dr Carla Paszkowski BVSc (Hons)
Does your pup suffer from motion sickness? Are you tired of cleaning dog vomit off the floor of your car every time you take your pup for an outing? Or perhaps your dog is exceedingly restless and stressed every time you take them out for a drive?
You might be surprised to hear that car sickness is very common, particularly in puppies and young dogs. The structures inside the head that control balance are much smaller and less developed in puppies (this is also why human children suffer from motion sickness much worse than adults!). Some dog breeds also tend to be more prone to car sickness, including staffies and working breeds.
While car sickness can improve with age, anxiety can exacerbate the problem in many cases. Some dogs simply dislike car trips altogether and it can be a significant source of anxiety for them, especially for those who experience motion sickness and nausea as puppies. 
Skip to a section:
The Signs of Motion Sickness in Dogs
What are the signs of motion sickness?
It's easy to spot the signs of car sickness in dogs. Your dog may appear dull, morose, and may salivate, lick their lips, yawn, and of course vomit. Car anxiety, on the other hand, can manifest in panting, pacing, crying, and restlessness.
Does nausea cause anxiety? Often anxious dogs exhibit their stressed behaviour because they feel nauseous - but sometimes they can make themselves so stressed that they become sick. With anxious dogs, it's hard to know whether the nausea is causing the anxiety, or whether the anxiety is causing the nausea.
Because car anxiety and car sickness are so often related, we have included tips for both cases in this guide. Luckily there are a few easy ways to get your pup the relief they deserve. Hopefully you'll be able to enjoy some vomit-free trips in no time at all!
How to cure your dog's car sickness

1. Anti-Nausea Drops for Dogs
Natural Animal Solutions TravelEze is an oral liquid designed specifically for curbing travel sickness in dogs. It is a great non-medicated option to try for puppies. It contains ginger as well as withania and chamomile, and can be added to food or straight onto the tongue, 30 minutes before travel. Unlike some drops for humans, it is alcohol free and completely natural.
2. Fresh Ginger
Just like for humans, ginger can work wonders for queasy pups. Simply give a spoonful of ginger to your dog around 20-30 minutes prior to the car ride. For small breeds try a small teaspoon, and for larger dogs (staffies upwards) try a dessert spoon. Most people find this surprisingly effective. You can certainly try to administer the ginger straight into your dog's mouth, however you might find this a little tricky! Instead, most dogs will happily take fresh ginger if it has been concealed in a bit of wet food, or a tasty piece of meat. Wrapping a lump of ginger in ham is an easy way to get them to accept it!
What kind of ginger is safe for dogs? Thankfully all types of ginger are safe for dogs (unlike garlic!). In general, we recommend finely chopped fresh ginger, or minced.
3. Position Your Dog With Good Visibility Outside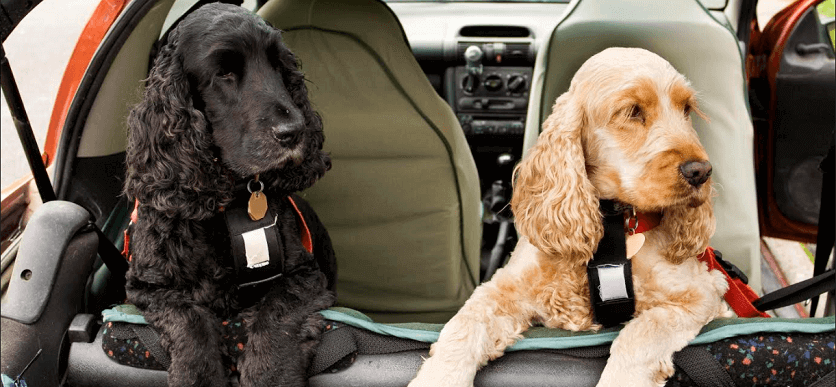 Have you ever noticed how car sickness in humans is improved if they sit in the front seat? This is because improved visibility and a forward-facing position helps stabilise the head and associated balance structures.
Dogs are no different. When you think about it, it's easy to appreciate how being stuck in the back of a car without a view outside can exacerbate motion sickness.
If possible, try to position your dog so they can see out a window. Opening a window to deliver fresh air can really help too. To help with visibility, you might like to prop your dog up with a car seat, or try and crate train them. If you don't have a travel crate, always be sure to keep them secure with a seatbelt-attaching harness. (In most states, this is a legal requirement!)
Helpful Products: