Image by @pikachuthecockatiel_
What Are The Best Toys For Birds in Australia?
07 JANUARY 2022
This article is written by Pet Circle veterinarian, Dr Carla Paszkowski BVSc
From canaries to cockatiels, birds make wonderful and intelligent pets. When it comes down to it, birds really are just curious, personality-filled, playful little clowns!
Providing an array of toys for your bird has many benefits. Not only a bird toys fun to play with, they are also important for your bird's mental wellbeing. Birds are natural problem-solvers with busy minds, which means that boredom is just as tortuous and mentally damaging for them as it is for us. Toys are particularly important if your bird is caged. (Note: we don't ever recommend an entirely caged existence for birds - part time only!)
We've collected a few of our most outrageously cute toys and accessories for birds, based on a few criteria:
Want to see bird toy reviews? Pet Circle contains thousands of reviews from bird parents. Simply click on any product to see what other customers have to say!
1. Best Birdie Play Gym
Winner: Trixie Wooden Bird Playgrounds
Suitable for: Cockatiels, Budgies, Canaries, and Lovebirds
Because your bird should live eco-friendly too! Trixie's playgrounds provide fun, physically stimulating enrichment for your feathered friend. These natural wood play gyms allow your bird to play, exercise, and nibble to their heart's content. They are also light weight and easy to move around your house. Why not place next to a window so your birdie can perch and exercise while watching the world go by?
We particularly love Trixie's play gyms because they're made from natural hard wood materials. This means they are not only safe for chewing, but they're visually appealing and eco-friendly. If you're not a fan of brightly coloured plastic, these rustic wood products will make a wholesome addition to your home.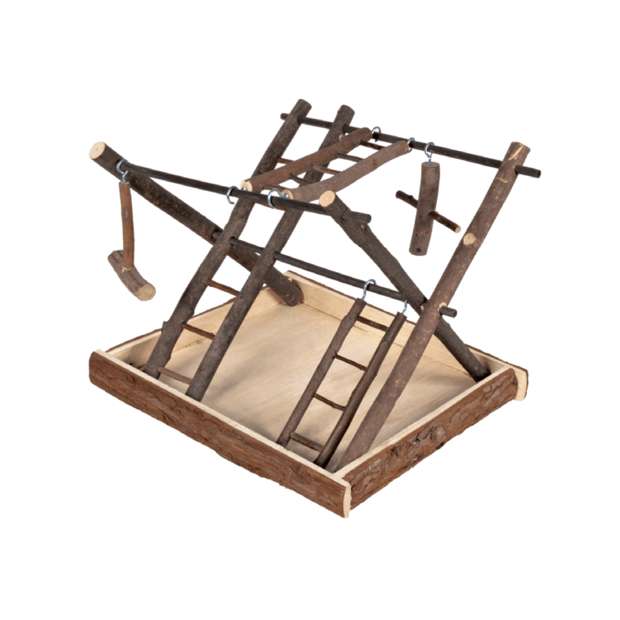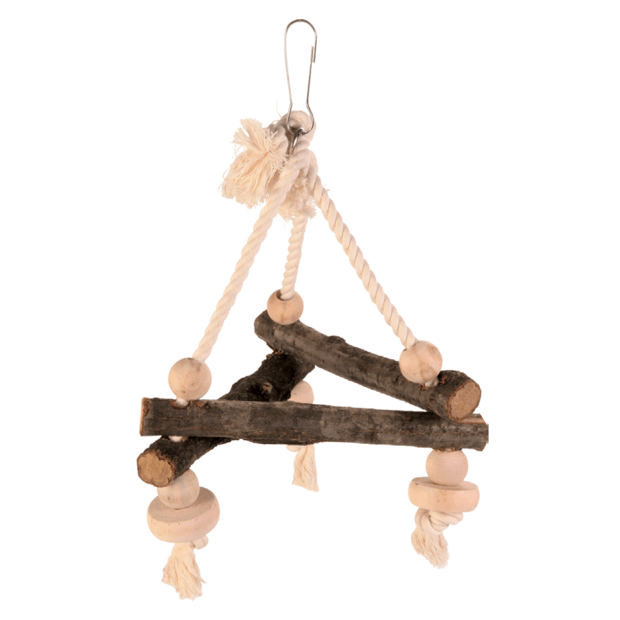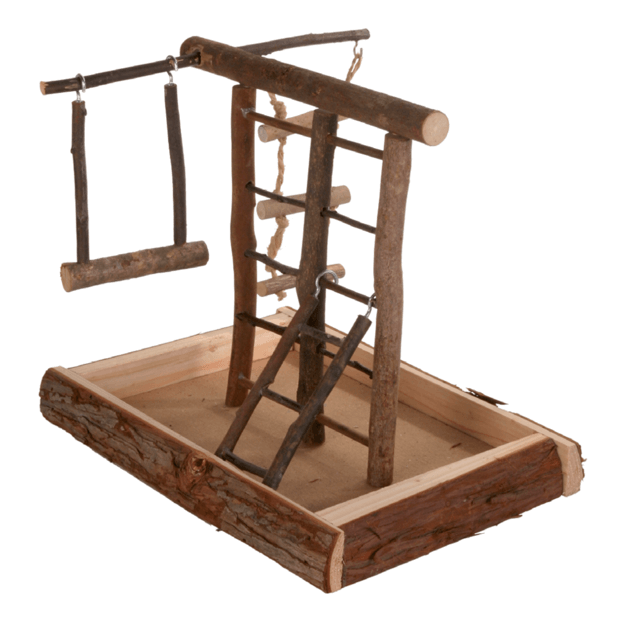 Suitable for: large birds including Macaws, African Greys, Cockatoos and Amazons.
Foraging is a natural instinct for birds, and helps keep them occupied and mentally stimulated. Providing your bird with safe toys that encourage problem-solving and foraging behaviour helps to fight boredom.
Creative Foraging produces a whole range of puzzle toys to exercise your bird's mind and encourage problem-solving. Our top picks from their range includes the Tug N Slide, the Generation II Wheel, and the 4 Corners Cage Mount. These foraging puzzle toy requires your bird to slide plates in order to move food through the chambers and retrieve their tasty snacks. In the Tug-N-Slide, once food has reached the bottom section, your clever bird can retrieve the food by pulling down on the leather strap.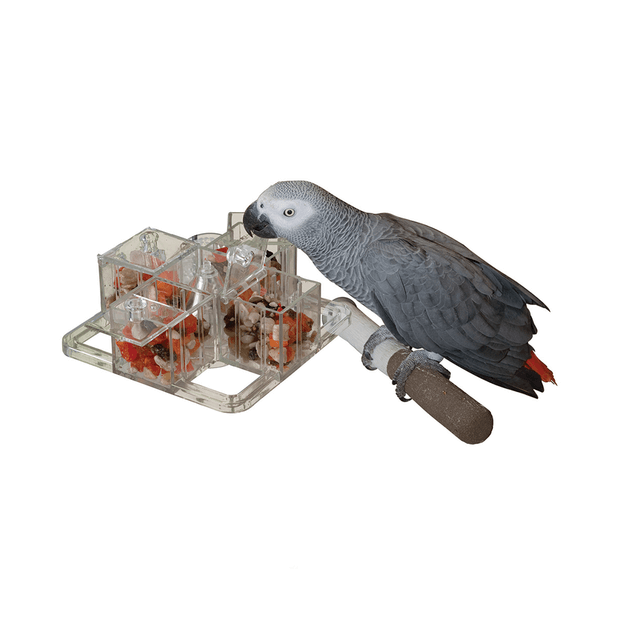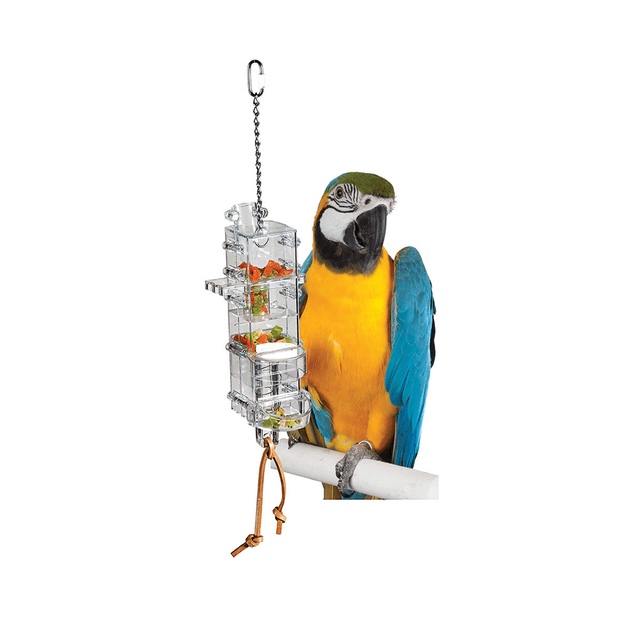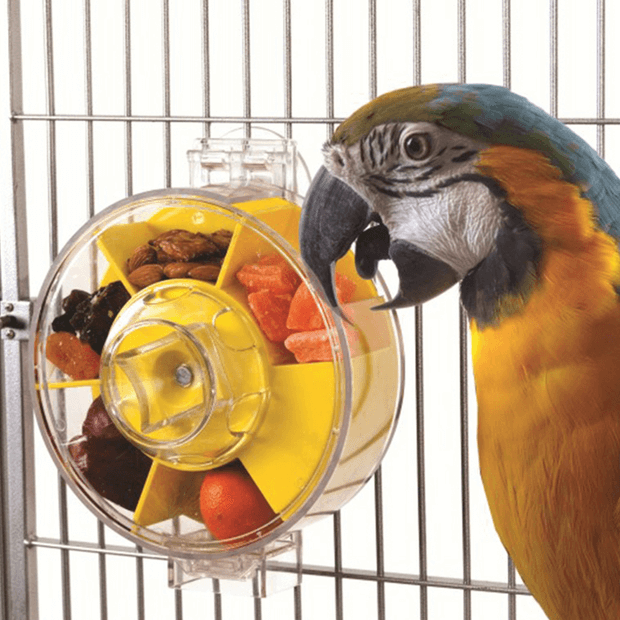 From left: the 4 Corners Cage Mount, the Tug N Slide, and the Generation II Wheel
Shop Creative Foraging Toys Now
Winner: Super Bird Crinkle Strip Toys
Suitable for: small birds like Canaries, Budgies, Cockatiels and Budgies
Your bird will love to chew, nibble, and tear at these crinkly toys! Anyone familiar with the feeling of having your earring nibbled at will know that chewing is a natural instinct for birds. It is particularly strong during the breeding season when birds will naturally create nests. Providing your bird with safe, destructible toys to chew on helps to fight boredom and keep them mentally and physically stimulated.
Super Bird's range of crinkle toys contain destructable cardboard and crinkle strips, with fun touches like a mini rubber duck or nickel bells. All materials are safe and non-toxic. Our favourites from their range includes the Duck Hunt, the Activity Wall, and the Crinkle Crinkle Little Star. The Activity Wall is from fun and safe to chew sea grass matting with safe, non toxic toys attached.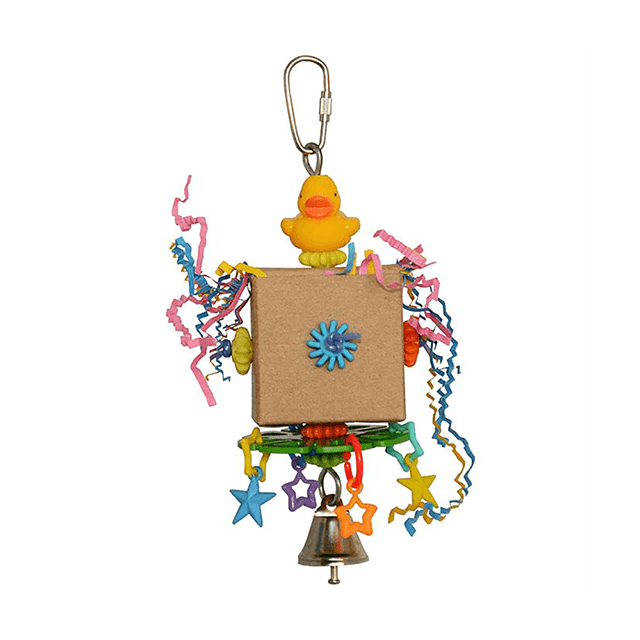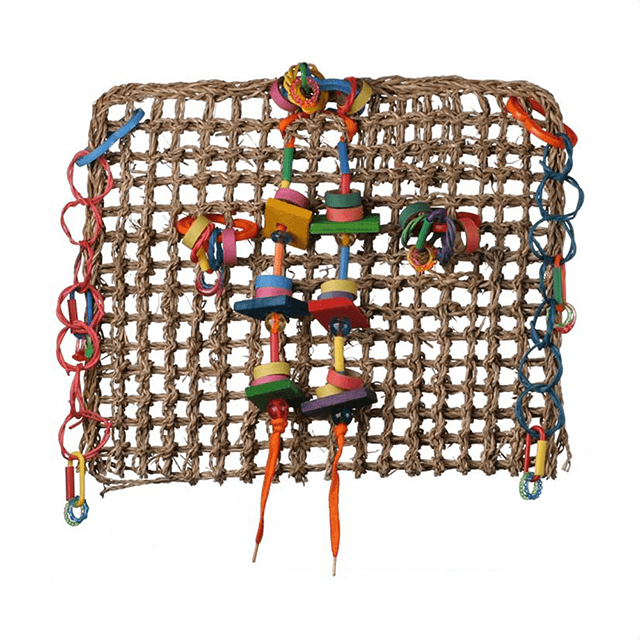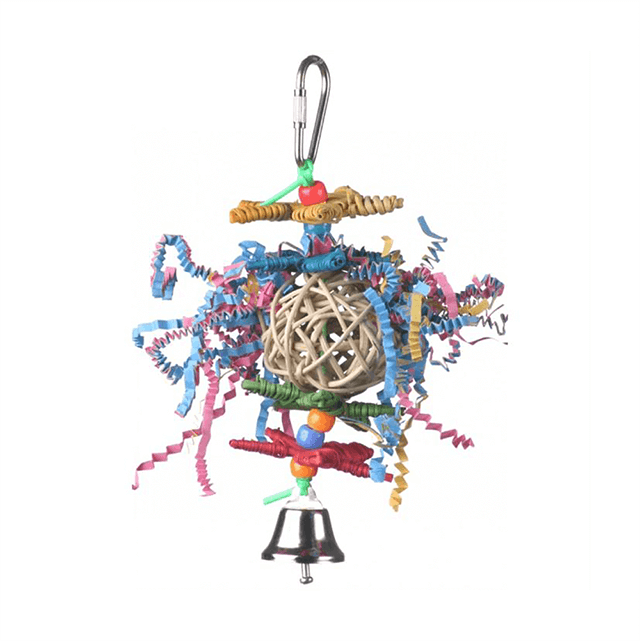 From left: Super Bird Duck Hunt, Activity Wall, and Crinkle Crinkle Little Star
Suitable for: small and medium birds like Budgies, Cockatiels, Budgies, Conures, and Ringnecks
Mirror, mirror, on the wall... Birds are social creatures, which means they love having a 'friend' for company. As sad as it sounds, providing a mirror is an easy way to create a 'playmate' for your birdie. Most species of birds aren't mentally able to recognise their own reflection, so mirrors effectively provide a pal for them to interact with. Please note: if housing your bird by themselves, you are their 'mate' and need to provide abundant attention and companionship to them. A mirror should only be provided as a supplement to this. The
JW Insight Fun House Mirror provides three mirrors side by side for extra 'friends'! Your birdie will think they've hit the jackpot with 3 pretty birdies to chat to. And the Kazoo Natural Wooden Perch with Mirror provides an extra perch - a perfect little vanity from which to admire themselves!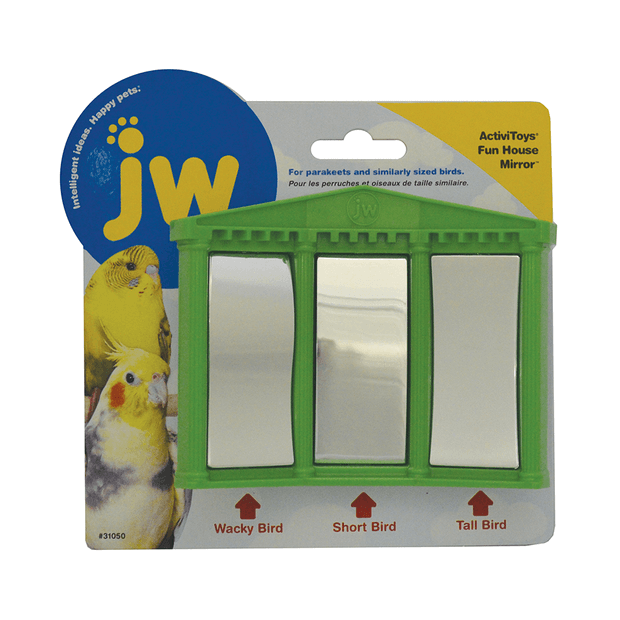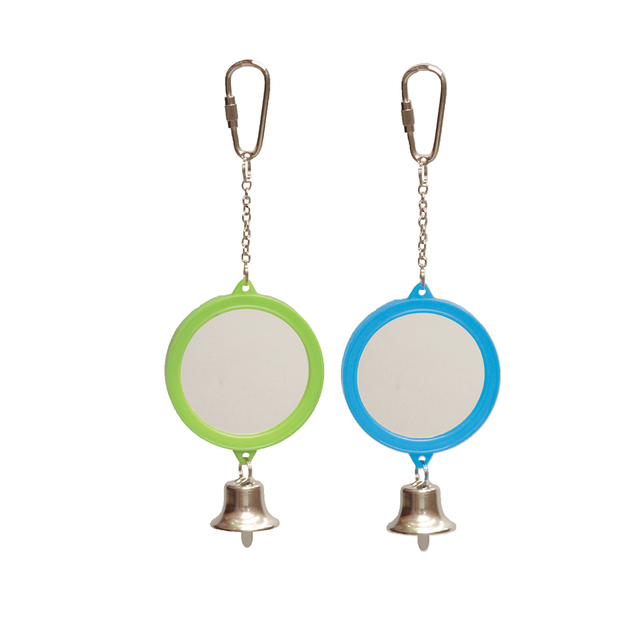 From left: JW Insight Fun House Mirror, Kazoo Mirror With Wooden Perch, and Kazoo Round Mirror with Bell.
5. Best Swing Toys
Suitable for: small and medium birds like Budgies, Cockatiels, Budgies, Conures, and Ringnecks
Swings provide a fun and entertaining perch from which to play, nibble, and survey their 'kingdom'. Many birds enjoy being little acrobats when provided with a swing, and it can be a whole lot of fun to watch!
The Birdie Medium Block Swing is brightly coloured and contains multiple different shaped blocks, as well as 3 different textures: wood, rope, and metal bells. Your bird will love swinging, nibbling, climbing, and making 'music' with this interactive toy.
For larger birds, the Super Bird Flying Trapeze Swing is a fun and flamboyant toy sure to keep the most playful birds happy and enetertained.
For those who prefer something a little more minimalist and simple, the Kazoo D Swing is made from neutral wood, and is sure to fit in