What is the Best Treat for your Dog?
Last Updated 1 DECEMBER 2021
This article is written by Pet Circle veterinarian, Dr Carla Paszkowski, BVSC (Hons)
Which treat is best for you furry friend? Perhaps your dog has bad breath, or a tummy issue, or maybe they just needs something long lasting to keep them occupied and out of mischief? Or perhaps you have a puppy who needs some tasty training treats to help them learn their basic obedience.
There are so many dog treats available in Australia - our furry friends really are spoiled for choice! From treats for bad breath to calming chews you might be surprised how much a 'treat' can truly benefit your best mate's health.
Most common type of treats for your pet
The best occupying and boredom busting treats
The best low fat and weight control treats
The best treats for joint care
The Best Dental Treats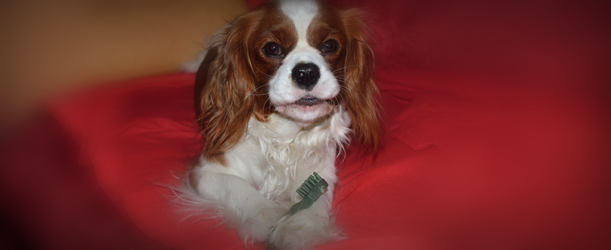 Because 80% of dogs will suffer from dental disease throughout their life, dental chews may be suitable for any dog. Traditionally, bones were given as the 'ultimate' dental chew, however due to the risks associated with giving bones to your dog, most vets recommend dental chews instead.
How Dental Dog Treats Work?
Dental chews work by acting almost like a toothbrush: the action of chewing and grinding the teeth against a hard surface mechanically removes plaque and tartar. The longer your dog chews and grinds their teeth on the treat, the better the dental care. However, this does mean that treats that are swallowed quickly have no real dental benefit.
Our top-rated dental chews include:
1. Whimzees - These potato-based vegetarian chews are perfect for dogs with food allergies as they do not contain grain, beef, or chicken protein. They are an ideal firm rubbery texture, and designed with unique grooves to reach all surfaces of the tooth. Particularly popular - and cute - are their Hedgehog Chews, shaped exactly as they sound!
2. Greenies - Greenies chews are made from highly digestible, balanced ingredients, fortified with added vitamins, minerals, taurine and chlorophyll. Greenies Dog Chews have a chewy and flexible texture and are shaped like a toothbrush for extra fun!
3. Goat Horn - If your dog tends to chew extremely quickly and scoffs down dental chews, you might like to give them a longer-lasting treat. Products like Nature's Cuts Goathorn are natural, more rubbery than bones, and incredibly long-lasting.
4. Ziwi Green Lamb Green Tripe - these single-protein chews are ethically sourced from free-range lamb and extra chewy to help clean the teeth. Tripe is a rich source of beneficial probiotics, which help support healthy tummy and overall immunity.
Read more about oral health tips in our article Dental Care for Dogs.
The Best Training and Reward Dog Treats

Whether you're teaching a puppy some basic commands, or training your dog how to walk on a lead, it's always a good idea to have some training treats on hand.
The ideal training treat should be highly palatable, small - or able to be broken into small pieces - and easy to transport. For dogs, liver and jerky chews can be very effective. For cats, liquid pate-style treat tubes work incredibly well as cats seem to love the unique texture!
Read more about training tips in our articles Train Your Pup To Walk on a Lead.
Winners: Top Training Treats
1. Natures Cuts Kangaroo Chews - these single-protein chews are 100% Australian made and contain real Australian roo meat. They can easily be broken into pieces for tasty training tidbits.
2. Blackdog Liver Balls - These chewy, bite sized balls are made using low fat beef and chicken meat for a tasty treat, ideal for use as a training reward.
3. Beasty Organ Bites - Single sourced, single protein, whole food recipe, grain free, natural, and kept fresh with the best freeze-drying technology.
The Best Occupying Dog Treats

Occupying treats are great for keeping your pup amused, stimulated and out of mischief when they're alone. As an extra bonus, occupier treats also tend to be be great for keeping your pet's teeth clean!
For most dogs, the best treats to keep them occupied as long as possible are those that either contain bone, dried offcuts, or anything tough and chewy. Great examples include the Aussie-made Nature's Cuts range with items like Beef Ears and Goat Horn, or the range from Wag which contains popular items like Dear Antler.
Winners: Top Occupying Treats
1. Nature's Cuts - basically the entire range from Nature's Cuts is great for keeping your pet occupied. We love their use of 'natural offcuts' which make use of pieces from the meat industry that would otherwise go to waste (yay for sustainability!) such as Beef Ears, Pork Ears, Lamb Ears, Goat Horn, and Shark Cartilage. All treats are made right here in Australia from local ingredients.
2. Treat Toys - toys that can be stuffed with treats or paste are perfect for keeping your dog occupied. Most of the range from KONG is designed to be stuffed with treats and keep your pet chewing for hours. They can even be frozen for use on hot sunny days! We particularly love the Kong Quest range, but can't go past a Classic Kong toy!
3. Treat Puzzles and Licky Mats - these interactive puzzles are so great for keeping your dog occupied. Simply add their favourite treats to encourage problem solving and instinctive foraging. The range from Paws for Life includes Puzzles as well as Snuffle Mats product is perfect for dogs who guzzle their meal too quickly, or who need a bit of extra puzzle-solving fun!
For more tips on keeping your dog occupied when they're home alone, see our article about Boredom Busters for Dogs.
Can't decide on a treat? Why not let us choose for you with the Curious Box? Each Curious Box contains a selection of two to three tasty treats ( and toys!) Even better, the theme changes every 6 weeks, making it the perfect way to keep your pet's supply of treats fresh, fun, and varied!
The Best Low Fat Dog Treats

With many pets suffering from sensitive stomach issues such as Pancreatitis, low fat treats are a welcome addition to the market. A low fat treat is the typical recommendation for any dog with a sensitive stomach or pancreas, and may also be ideal for overweight pets (but keep in mind that 'low fat' doesn't always mean 'low calorie!').
While most commercially available treats are considered too rich for a sensitive tummy or tubby pet, fortunately there are some options available. Your pet certainly doesn't have to miss out on tasty treats just because of their medical or dietary requirements!
The best trick is to source a vegetarian treat. Vegetarian treats are naturally low in fat, particularly animal fats (which commonly set off the pancreas or a sensitive stomach!). Fruit such as apple, strawberries, or pear make excellent healthy treats; as do vegetables such as carrots, peas, or corn.
Winners: Top Low Fat Treats for Dogs
1. Whimzees - Making the 'winners' list for both dental care and low fat treats, Whimzees sure are a super treat. With a fat content of just 2%, plant-based Whimzees are an excellent option for dogs prone to weight gain and pancreatitis. These highly digestible chews contain no artificial colours and help keep your pooch's breath fresher by helping to reduce tartar and plaque build up as they chew.
2. Royal Canin Educ Dog Treats - At just 1% fat, these low calorie treats are the perfect option for rewarding your sensitive stomach or overweight pup. They are highly palatable and can be fed to both puppies and adult dogs.
3. Balanced Life Kangaroo Cat Treats - These treats are high in protein (44%) and low in fat (2.5%), with a large content of kangaroo meat, organs, and bone. They are grain free and incredibly palatable.
The Best Anxiety Calming Dog Treats

A serious condition and more common than you would think, anxiety affects pet dogs and cats of all breeds and sizes. One out of every six dogs may suffer from canine separation anxiety, noise phobia (including thunderstorm phobia) or general hyperactivity secondary to nervousness. Cats are also very prone to anxiety and it can present in a number of different ways - from urinary marking, to overgrooming, to hyperactivity at night. In fact, almost any problem behaviour may be caused by or exacerbated by stress.
While proper training and household adjustments should be the mainstay of managing anxiety in pets, calming treats are an excellent way to help the process along. The best part is that your pet will merely think they're being treated to a tasty morsel - little will they know that this 'treat' is actually a 'treatment!'
Most calming treats are infused with either a neutraceutical compound such as tryptophan, natural milk protein, or herbal extract such as hemp or chamomile.
What is Tryptophan? Tryptophan, also known as L-tryptophan, is a precursor to serotonin (the 'happy hormone'). Similar to the effects of an antidepressant, Tryptophan reduces stress. It has been demonstrated to help dogs with territorial aggression, dominance aggression, or general anxiety caused by travel or separation from owners. Tryptophan is used in many stress-soothing treats, and it is also included in some anxiety diets such as Hills Prescription Diet Urinary Stress and Royal Canin Calm.
Winners: Top Anxiety Treats for Cats and Dogs
The Best Joint Care Dog Treats

Although arthritis is one of the most common health conditions we see in dogs and cats as they age, the good news is that there are plenty of products you can use at home to help ease those aches and pains. It might surprise you to hear that proven joint care compounds are available in the form of a tasty treat.
What nutraceutical compounds promote healthy joints? Arthritis supplements for cats and dogs most commonly contain one or more of the following nutrients:
1. Omega fatty acids - the omega 3 fatty acids DHA and EPA have been demonstrated to have anti inflammatory properties, and as far as supplements for arthritis go, they are backed by the most convincing evidence. Omega 3s can be obtained from lots of difference sources including fish oil, green lipped mussel powder, flaxseeds and nuts, marine sources of omega fatty acids (such as fish, fish oil and green lipped mussel) are the most effective for dogs.
2. Glucosamine and chondroitin - glucosamine and chondroitin are the building blocks of normal healthy cartilage and provide essential joint nutrients to help protect, nourish and repair cartilage. Products containing glucosamine and chondroitin are usually harvested from sea mollusks. Despite a lack of strong evidence in the veterinary literature, some veterinarians and owners have found supplementation to be helpful. With minimal side effects compared to some of the common pain relief medications, they are a good option for mild cases and to use alongside other therapies.
Want to know more? Read more about joint care, including Prescription Diets and supplements, in our article Arthritis Care for Dogs.
Winners: Top Joint Care Treats for Dogs
Shop All Joint Care Dog Treats
Premium pet food: Is it worth it?
What Is The Best Dog Food for Skin Allergies?
How diet can help your senior pet
Does Grain Free Dog Food Cause Heart Disease?