The Golden Retriever
A Complete Breed Guide
FRI 21 AUG 2020
This article is written by Pet Circle veterinarian, Dr Elise Barry, BVSc (Hons), BSc (Hons)
The Golden Retriever has long been a most beloved and ever popular breed. It is believed they were bred in the United Kingdom almost 200 years ago. They originated as a gundog, renowned for their tracking and retrieving ability. They are known for their intelligence and easy-going nature. They are easily trained, patient and gentle, making them wonderful family and companion dogs. Golden Retrievers are incredibly charming and loveable dogs, so it's easy to see why they are one of the most popular dog breeds throughout the world.
Find all your Golden Retriever essentials including toys, treats, collars harnesses and more in our Golden Retriever Shop.
Contents:
Top recommendations for grooming & boredom
At a glance
| | | |
| --- | --- | --- |
| Breed size: | Place of origin: | Other names: |
| Large | United Kingdom | Goldens |
| Breed group: | Energy level: | Weight range: |
| Retrievers | Medium | Female 25-32kg, Male 27-36kg |
| Life expectancy: | Tendency to bark: | Height range: |
| 11-12 years | Moderate | Female: 51-56cm, Male: 56-61cm at shoulder |
| Drool factor: | Social needs: | Coat length: |
| Low | High | Medium |
| Shedding factor: | Overall grooming needs: | Colours: |
| Moderate-High | Regular brushing | 4 colours (cream, dark & light golden, golden) |
History

Left: Noranby Campfire, b. 1912. First champion Golden Retriever. Right: 1926, Noranby Curfew and Winifred Charlesworth, the person credited most with establishing the golden retriever as a distinct breed. Source: Retrieverman.net
The first record of the breed is sited as 1835 in the Inverness-shire of Scotland. The breed was developed in the mid nineteenth century by Lord Tweedmouth, an enthusiast for hunting and sporting dogs. He crossed a Wavy-coated Retriever with a Tweed Water Spaniel to create a foundation litter of Golden Retriever puppies. The Golden Retriever has been considered an official breed since 1911. They are still renowned for their hunting and retrieving ability. They also make wonderful family pets and service dogs, because of their trainability, intelligence and devotion.
Personality
Golden Retrievers are known for being exuberant, affectionate and gentle. They're well-mannered and can possess great charm. They are very sociable with both people and other dogs. With their bounding barks they make great watchdogs, however they are unlikely to be aggressive. Their large, strong, muscular frames mean they're very powerful and energetic. This makes them wonderful working dogs that can endure lots of outdoor play, like fetching.
Golden Retreivers are notorious water lovers. They absolutely adore swimming and have a thick double coat which repels water. Regular grooming with a bristle brush is recommended to reduce shedding and help with bonding. A Golden Retriever will adapt to any lifestyle, as long as they're given lots of love, attention and exercise.
Top toy recommendations for your Golden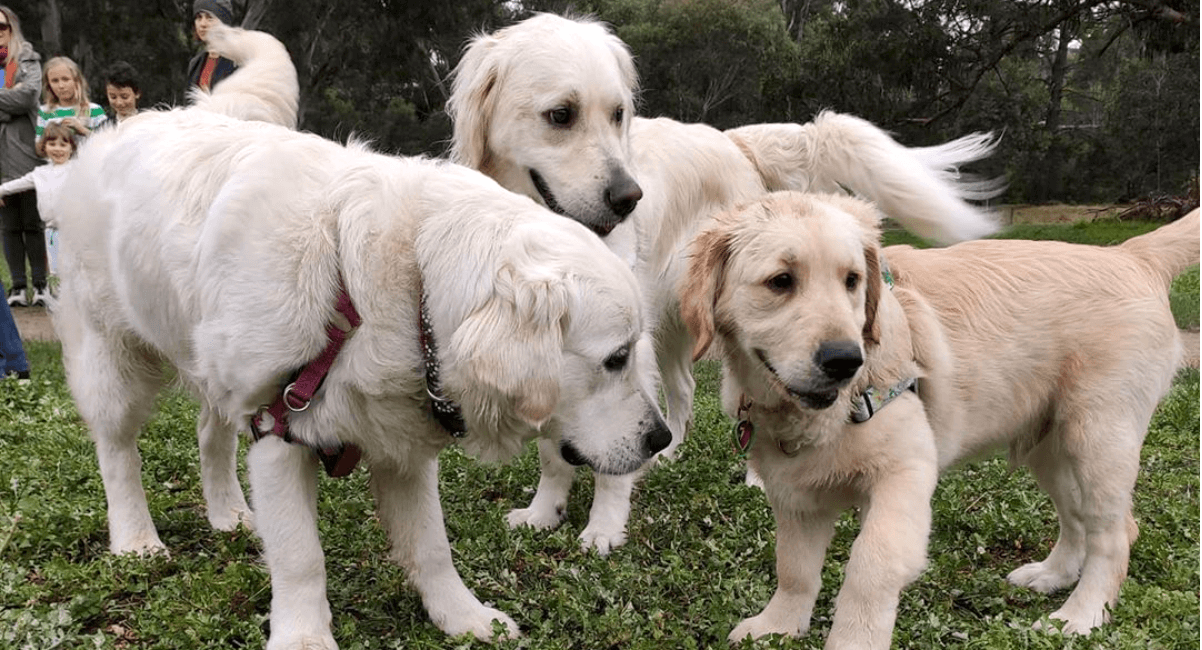 Health concerns
Golden Retrievers are considered a pretty stoic breed that have an average probability of inheriting disease. Skin allergies can be common and they're also prone to hip dysplasia and genetic eye conditions.
Cataracts occur when eyes have a cloudy appearance due to changes to the lens. Cataracts can lead to vision loss however they can be removed surgically.
Cancer can be commonly seen in Golden Retrievers. Tumours deriving from the lining of blood vessels (hemangiosarcoma), white blood cells (lymphosarcoma), bone (osteosarcoma) and mast cells (mast cell tumours).
Subvalvular aortic stenosis occurs when the connection between the aorta and the left ventricle of the heart is narrowed. Clinical signs include fainting and sudden death. If detected early, the condition is treatable.
Allergies to fleas can be common in Goldens. Also, food allergies are occasionally seen. Rigorous flea prevention and specific diets may be needed after consulting with your veterinarian.
Osteochondrosis dissecans is a condition involving abnormal development of the cartilage on the end of a bone in the joint. This leads to inflammation, causing pain and lameness. Depending on the severity of the disease, surgery may be necessary.
Gastric dilatation volvulus (GDV/bloat) is caused by twisting or distension of the stomach. This causes acute pain and can be life-threatening. Immediate veterinary intervention is required.
Hip dysplasia is a condition where the femur and hip joint do not fit together properly, causing pain and lameness. Less severe cases can be treated with anti-inflammatory medication, however surgery may be required for serious cases.
Elbow dysplasia is common amongst large breed dogs. This heritable condition occurs due to differing rates of bone development in the elbow. It leads to joint mobility, pain and lameness. Less severe cases can be treated with anti-inflammatory medication, however surgery may be required for serious cases.
As with any type of joint disease, arthritis can be a concern. Take a look at our article Arthritis Care for Dogs to find out how you can help your Golden Retriever.
Top Joint Supplements for Golden Retrievers
Nutrition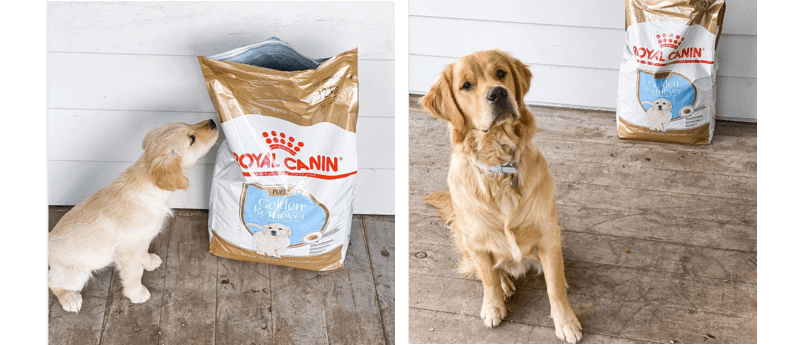 Although there are no specific feeding requirements for a Golden Retriever, it is very important that you feed your Golden a suitable diet that is age appropriate and meets all their daily nutritional and energy needs. A premium, balanced Large Breed Adult Dog Food from reputable pet food brands should provide tailored nutrition that your Golden needs. Premium large breed formulas contain balanced levels of protein, fat and carbohydrate plus vitamins, minerals and antioxidants for health and wellbeing. We also stockLarge Breed Puppy Dog Food for growing Goldens. (See our top recommendations below!)
As some conditions are specific to Golden Retrievers, there are breed specific diets that can help reduce the likelihood of disease.Royal Canin Golden Retriever Adult contains taurine and omega 3 to support healthy cardiac function. It is also rich in omega fatty acids to protect the skin, and has adapted calorie content to reduce obesity. Plus, this diet has a tailored kibble shape to encourage chewing. For puppies, Royal Canin Golden Retriever Puppy is available to support healthy growth and development specific to this breed.
Top food recommendations for Golden Retrievers
Further Reading
For more information have a look at these recommended articles:
Breed Diets: Are They Worth The Hype?
Complete Beginner's Guide To Puppy Care
Best Dog Food For Skin Allergies